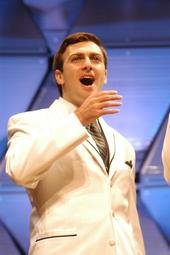 Fresh off the Mid-Atlantic District chorus win, Voices of Gotham director Larry Bomback shares the history, current focus and future plans of this young organization.  Not only are they making a great impression on the Barbershop Harmony Society but also on the NYC music scene with targeted branding, great web exposure and a clear chorus identity.
You can find more info about VOG and their upcoming shows at www.voicesofgotham.org.
Contratulations also to Big Apple Chorus and the Chorus of the Chesapeake as well as the Quartet winners:
1st – MAD Hatters
2nd – Frank The Dog
3rd – Limelight
It's time to get your tickets for the Harmonizers Christmas shows!  For info and tickets go to http://alexandriaharmonizerspresent.com/
It's Tag Time!  Enjoy Simon Rylander's incredible tag that he teaches called "Yellow Coffin".  The tag was written by a fellow Swede and friend of his Oscar Sjoberg and it ROCKS!
You can find Simon at www.SunshineTracks.com and also information about his quartet, the CD that he recorded and produced himself as well as his learning track business.
Podcast: Play in new window | Download (Duration: 43:56 — 33.4MB)